Celestyal Cruises has fast built an award-winning reputation and recognition as the number one choice for cruisers and travelers to the Greek islands and Eastern Mediterranean. The clear difference is Celestyal's regional expertise which leads the way with an unbeatable mix of destinations, durations and experiences on and off the ship that all come together to make one unique and unforgettable vacation. Over 100,000 guests each year enjoy exceptional hospitality, in the comfort of knowing that their cruise is on an all-inclusive basis which means dining, classic drinks, select excursions, entertainment and gratuities are all included in the fare.
Where Celestyal Cruises Sails
Whether you are traveling on unique 3-, 4-, or 7- night sailings, Celestyal is committed to delivering guests with a truly memorable experience. Not only do our guests enjoy exceptional hospitality, but when cruising with regional experts, it is the ultimate vacation experience for anyone dreaming of a Greek or East Mediterranean cruise vacation!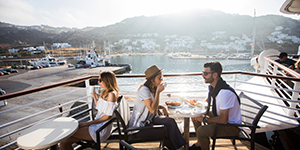 Greece
Athens • Rhodes • Agios Nikolaos (Crete) • Santorini • Milos • Mykonos • Thessaloniki • Volos • Kavala • Patmos • Syros • Heraklion (Crete)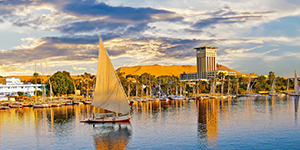 East Mediterranean
Kusadasi (Turkey) • Istanbul (Turkey) • Çanakkale (Turkey) • Port Said (Egypt) • Ashdod (Israel) • Limassol (Cyprus) • Dikili (Turkey)
What's Included:
Onboard Dining
Nothing more represents Celestyal's rooted Greek heritage than its food and passion for serving the freshest local ingredients. The Galley team takes guests on an amazing gastronomic journey to the heart of the Mediterranean and beyond with a deliciously mouth-watering selection of Greek and international dishes.
Unlimited Classic Drinks
Enjoy complimentary house wine, beer, soft drinks, teas, coffees, cocktails and branded spirits while on board.
Select Shore Excursions
Two complimentary excursions are included. In addition to the complimentary excursions, Celestyal offers a host of other excursions that can be purchased on board, or pre-booked before travel.
Entertainment Onboard
Every night on board your ship you can sit back and enjoy a fantastic show from the entertainment team, the Cirque Fantastic.
Gratuities
Included in the price of the fare are all onboard gratuities.
Celestyal Promise
Freedom to adjust your sailing date up to 30 days before your scheduled departure (T&Cs apply). Full payment is due 45 days prior to sailing. Free cancellation up to 90 days prior to departure.